Wood Flooring Accessories
Flat Beading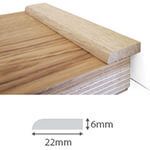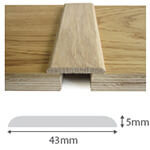 These are strips of wood that cover gaps between the wall, skirting boards, nosing and wooden floor. Because a gap may be required to allow movement between the floorboards, flat beading is used to give the surface a uniform aesthetic. The strips are between 5-6mm thick and the width varies between 43-65mm.
L-Beads & L-Sections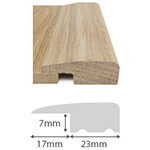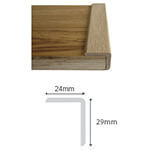 L-sections are used to cover any of the floor board's 4 sides were necessary to mask unsightly gaps or rough edges. As a result, they are available in heights of 7mm, 14mm and 20mm. Similarly, L-beads cover the ends or sides of the board but are the same height as the plank (14mm/16mm/20mm/29mm).
Nosings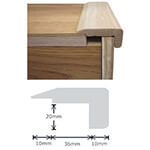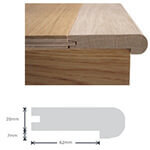 A tongue and groove standard construction nosing is used to cover the end of a wooden floorboard and staircase elements like treads, wall stings and balusters. As such, they are available in thicknesses of 14mm, 16mm and 20mm. Additionally, a tongue and groove universal construction noising may be used to cover the end of the floor plank and staircase elements like risers and treads.
Pipe Covers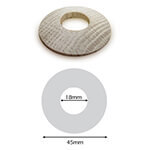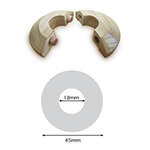 These fit around radiator pipes that go into the floor to provide a clean finish. As a result, pipe covers come in various sizes depending on the pipe diameter.
Ramps / Reducers / Thresholds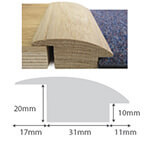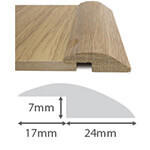 Reducers are used to provide a clean bridge between different floor surfaces. For instance, a reducer will be used to transition between a wood floor and an adjoining carpet, marble or tile surface. Hence standard heights lower 20mm surfaces to 10mm and 15mm surfaces to 9mm. Similarly, wood floor ramps bridge the difference between the height of the plank and the surface of the subfloor. They are available in heights of 7mm, 14mm and 20mm.
Scotia and Quadrant Beading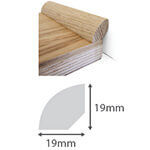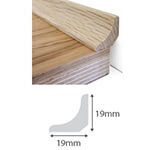 Scotia and Quadrant Beading is used to cover gaps between wooden floors and skirting boards, walls and moldings. As with solid hardwood scotia beading, they come in standard lengths of 19mm x 19mm x 2.4mm
Skirting Boards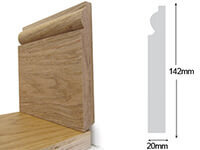 Skirting Boards are used to cover the lowest part of the interior wall. They fit over the joint between the wall surface and the wood floor. Consequently, skirting boards come in a wide variety of designs, thicknesses, shapes and profiles based on individual style and preference.
T-Bars / Thresholds
Finally, T-bars are simple fillers used to cover the movement gaps between wood floor surfaces which are at the same level.