Wood Floor Finishing
Finishing Products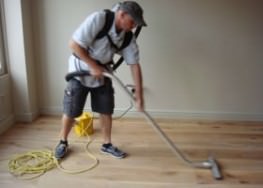 We use high quality wood floor finishes which protect and beautify wood naturally. These comply with the natural demands of the wood and protect it simultaneously.
They are:
Based on natural vegetable oils and waxes*.
Penetrate deeply into the wood, bonding with the surface, therefore making the wood highly durable.
Prevents the wood cracking, flaking, peeling or blistering.
Makes renovation very easy; just another coat is added on the cleaned surface.
Makes the wood water and dirt repellent.
Appropriate for all wood species; for both interior and exterior use.
All our products are environmentally friendly and meet all the demands of healthy-living,
They are:
Made using pigments that are safe enough to be permitted for use in the food industry.
Mostly Solvent free, if they do contain solvents, they are de-aromatized and comply with the purity demands of European Pharmacopoeia.
Are low in odour. Odourless when dry.
We usually make products that are easy to use, with little or no instructions involved.
Application of the finish is by brush or roller, but we also have stains that are sprayable.
Only 1 or 2 coats are required, straight on the wood surface, no primer, and no sanding between coats.
Our products are the most affordable on the market.
Our finishes are packed in such a way that, coverage exceeds most conventional wood finishes by at least double.
They are extraordinaraly durable and easy to maintain; just apply another coat if required with no sanding.
We care about appearance, and that is why our finishes have:
All shades of the same colour system that are easily intermixable for a great variety of colours.
Individual shades (RAL/NCS) with a surcharge possible
*Carnauba and Candelilla waxes, soybean, sunflower, thistle and safflower (thistle) oils and paraffin waxes.
CARING TIPS FOR FLOORS
Quick and easy cleaning and maintenance tips for Hard-wax, Oil treated wooden, cork and bamboo floors.
Daily cleaning
Dry cleaning: with broom, mop, duster, vacuum cleaner or electrical floor polisher.
Moist cleaning:
Add SAICOS WASH CARE concentrate to cleaning water (2 caps for approx. 5 litres of water).
Wipe floor with well wrung cloth or floor wiper.
 Finish with dry cloth if too wet.
NB: SAICOS maintenance set is readily available in our shops
Removal of persistent stains
-Pour a small amount of SAICOS WAX CARE directly on the floor and scrub to remove the stain with a cloth or SAICOS POLISHING PAD
Caution: Never use steel wool, microchip mops, scouring sand or other abrasive cleaning products.
Maintenance
This can be done weekly or upon demand. High traffic areas, such as hallways or under dining tables, require more frequent attention in comparison to other less used areas.
Apply small amount of SAICOS WAX CARE on a cloth or directly on a dry and clean floor (1 cap sufficient for approx. 1-2 m2).
Distribute the wax care with the cloth or floor polisher i.e can be polished after drying.
Ensure that you partially apply without any visible overlaps.
NB: An initial maintenance with Wax Care is recommend for newly installed industrial or Hardwax-Oil finished floors.
Repair of damages
Sand the damaged area to even out the surface.
Remove dust carefully, and thinly apply 1 or 2 new coats of SAICOS HARDWAX-OIL (depending on damage).
Renovation
Depending on wear and tear(public areas approximately twice yearly), apply new coat of SAICOS HARDWAX-OIL or PREMIUM HARDWAX-OIL (quick drying) on clean, dry surface. I.e. there are no visible marks left when you renovate partially.
Heavily soiled or worn out floors can best be cleaned easily and effectively with SAICOS MAGIC CLEANSER (can also be used partially on well-worn areas). After the cleansing, you can then use SAICOS HARDWAX-OIL for gloss and protection.
Basic care advice for all wood floors:
Apply felt pads under chair legs to avoid scratches.
For chairs with rollers, protect the floor with adequate underlay.
Sharp dirt or sand will damage any floor surface, therefore the use of doormats or other dirt absorbers in doorways is highly recommended.
Cleaned and maintained like this, your floor will remain fresh, clean, hardwearing and durable, and in the course of time become even more beautiful.
THE BEST FINISH FOR YOUR FLOORING
There's no such thing as a poor wood floor finish for parquet. All finishing methods and means have their own advantages and disadvantages. The preference for a particular finish is often prompted by aspects related to the user, such as intensity of use, ease of maintenance, preferences of taste, and the desired effect.
There are no registered market figures to show which wooden floor finish scores best. However, a number of floor fitters noticed a clear increase in oil finishes. A number of arguments in favour of oil certainly make it an easy product to sell.
Natural oil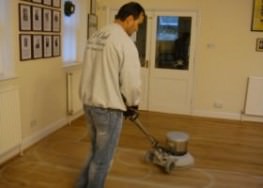 It appears that natural oil meets consumer expectations in every possible way. What is the profile of these consumers? It is becoming increasingly clear that, the scores of end users are gradually paying more and more attention to natural resources, the environment, and the welfare of people around them. Almost all of us are gradually becoming concerned about Global Warming, natural disasters, and other things related to these. The word 'natural' in the expression 'natural oil for parquet' really does wonders. Even if all parquet oils contain scores of other ingredients, the word 'natural' and the mention in the contents of ingredients such as linseed oil, pine resin, and 'vegetable' oil distract people considerably.
The feel of wood
From an aesthetical point of view, an oil finish matches up resoundingly to what consumers expect of a
wooden floor. The feel and structure of the wood and its natural warmth are all aspects which clients want to get into contact with. The major difference between an oil finish and a finish in lacquer or varnish is still the direct contact with the wood. Plenty of end users feel that a lacquer finish is almost a barrier between themselves and the
wooden floor. This view does have some justification. Lacquer applies a film to the wood and forms in this sense a certain (real) boarder between the user and the natural material. Seeing that oil has an impregnating effect and fills the pores of the wood without applying a sealed film, it takes nothing whatsoever away from the direct contact with the wood and the warm feeling which wood gives. Even the scent of an oiled floor seems more natural. This makes most people to refer to the oiled floorboards, as the
real wood flooring.
The link with distressed floors
A distressed floor is one of the many options which clients can choose for a wooden floor. Actually this is becoming a trend.  Over the past decade, distressed floors have gained enormous popularity and captured a considerable share of the market. Both in traditional interiors and in ultra modern homes, there is a good chance of finding a distressed wooden floor. It goes without saying that, there is no question whatsoever of a lacquer finish for these distressed floors. This is not only because of the coveted contact with the wood, but also for purely practical reasons. Lacquering a distressed floor would imply that the floor can never be renovated or re-treated again without sanding away the effects of distressing. Oil benefits largely from that market share which is hauled in by distressed floors, even if there is some competition from hard wax and hard wax oil.
Easy to maintain
Lacquered floors have acquired a justified reputation for being easy to maintain. Indeed, a lacquered floor is vacuum cleaned, swiffered, or mopped lightly. You can use a special product for this mopping, but it is not absolutely necessary. The fact that lacquered floors are easy to maintain does not necessarily mean that oiled floors present a problem in this regard. An oiled floor is maintained in just about the same way, but a specific product is required in the case of oil. The product for maintaining the oiled floors is usually included in the oil.  This feeds and reinforces the floor during maintenance, and this requires no more effort than maintaining a lacquered floor.
Durable and repairable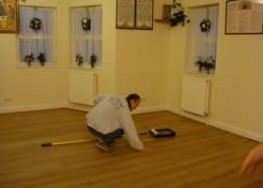 Seeing that the floor is fed by the maintenance itself, an oil finish provides an extremely durable solution. Anyone who maintains the floor in a responsible manner will never have to face drastic renovation work. The fact that the floor can be repaired in patches is a very important aspect. After all, oil can be touched up in the most intensively used spots, and can be repaired if any local damage occurs. With a lacquered floor, any wear or local damage to the coat of lacquer basically in most cases means that, the entire floor has to be sanded and re-treated. By contrast, it is possible to apply a fresh coat of oil to even a badly neglected oiled floor, sometimes after light sanding.
Basin
The parquet Wood Oil from Basin is based on ecological and top quality Tung oil. This deep-penetrating oil reinforces the durability of parquet, stairs, and other interior wood which is subjected to extra pressure. The water-repellent and micro-porous features of Basin's Wood Oil, provides a high quality finish without increasing the gloss of the treated surface; this is only possible with impregnation.
 No Visible Oil is a product made from emulsified oils, soluble resins, and other unique components based on nanotechnology. This product provides an invisible and non-glossy finish. This oil contains anti-UV agents which protect the wood constantly against discolouration, whilst the natural charm of the wood is unaffected. No Visible Oil is a hybrid waterborne product which is odourless and ecological.
Technical aspects to be considered
Preparation
It is equally essential to prepare the substrate for an oil finish if you are to obtain a good result. With previously treated wood, the floor has to be sanded completely bare in accordance with the rules of the craft. Depending on the state of the substrate, it is usually necessary to sand the surface a few times, from grain 40 to 120/150. This also applies to new floors.
Conditions and precautions
Most oils must not be applied if the surrounding temperature is below 10 to 12ºC or above 25ºC. Most oils dry best with a relative humidity of 55%. The moisture content of the wood must also not exceed 12%. Any floor heating must be switched off when the oil is being applied, and it is also advisable to cover everything which does not have to be treated. Some oils can be coloured with dyes for the first coat while some can be applied after a colour stain has been deployed.
Applying the oil
Oil is applied with a short-haired roller. Several producers advise you to apply the oil in the direction of the wood grain, and to make three crossed motions working away from the light. It is best to start with the section opposite the door and then to work towards the door. The edges are done first, and then you continue further for each section of 4m². Whilst you apply the oil, it is advisable to keep windows closed in order to prevent the oil from drying too quickly. The oil is applied in a thick coat and, depending on the brand, has to soak in within a duration of between 20 minutes and 1 hour.
The oil must not dry on the surface. If this does happen, once again depending on the brand, you should wait between 20 minutes and 1 hour and remove the surplus oil with a rubber mop. After this, the floor can also be rubbed dry with a soft cotton cloth. The floor surface is then polished using a rotating disc fitted with a white pad. This is done until the floor has a smooth and attractive surface.
Floor usage
You need to wait for at least 48 hours before you can walk on the floor. This is enough time for the floor to dry. It is also advisable to wait for at least two days before bringing your furniture in on this floor. You also need a minimum of 14 days from the day the oil was applied before covering the oiled floor with carpets. Most oils need at least this much time to set completely. Only then can the floor be used intensively. It can even be cleaned using water one week after the oil is applied. Within this waiting time, the floor should never be covered at all.
As far as the maintenance of oiled floors is concerned, most parquet oil producers stipulate the following:
General maintenance – dust the surface regularly with a swiffer, vacuum cleaner or mop it with a slightly damp mop. The use of a soft soap is usually recommended.
Partial renovation – Sand the area to be treated using a fine grain (150 to 180). Then remove all dust from the floor before applying a thin coat of oil.
Full renovation/substrate in good condition – remove all dust carefully and apply a thin coat of oil.
Full renovation/substrate in poor condition – If necessary, sand with a fine grain and then apply 1 to 2 coats of oil.
Clients will most of the time tend to think that, it is perfectly normal to use the same oil to nourish a wooden floor, or at least to use maintenance products of the same brand. This is not the case with a lacquered floor. Chemical producers know that, in the beginning plenty of end users use a cleaning product of the same brand as the applied lacquer, but then they gradually switch to ordinary and often cheaper detergents. Strictly speaking there is nothing wrong with that. However, this is not the same case with oils. With oils, the maintenance products might not be compatible with the brand used. This is why we give our clients our contacts so that we can periodically supply them with maintenance/oil product.
WATERBORNE PAINTS
Solvents are dying out
Makers are developing waterborne paints
Floor fitters are closely attached to their tried and trusted brands. That applies to almost everything, from parquet makers, tools, and glues to sending machines and finishing products. New technology really has to be convincing enough, for floor fitters to be converted to a different approach. Yet the latest generation of silane parquet glues shows that floor fitters are open to innovation. However, the biggest step has been the switch from solvent-borne to waterborne products. This switch is now a fact. Most producers are rightly proud of their complete range of waterborne products.
Analysing the environmental and health qualities of products has become a priority for everyone today. This is especially true for the building and decorating professionals, who have a responsibility to reduce their use of polluting substances. For many years now, Basin has committed itself to protecting the environment and the health of the users of its products. This is especially done during the development stage, but care is also taken up to when the products reach the end user. This commitment to environmental and health preservation has led Basin to taking steps towards developing greener chemistry. This is without compromising the technical performance upon which Basin products have built their reputation on.
EUROPEAN V.O.C. DIRECTIVE
Emissions of Volatile Organic Compounds (VOC) into the atmosphere contribute to the formation of the tropospheric ozone layer. This if this layer grows past a certain level, it can be very harmful to people, vegetation, and the atmosphere in general. Sensitive people may suffer irritation of the throat and eyes, as well as respiratory difficulties. Tropospheric ozone is also a greenhouse gas.
Collective awareness
BASIN
Basin presents a full range of water-based products. These include:
Hydral: This is a water-based wooden floor sealant, which is produced with acrylic-polyurethane resins selected for their excellent price/quality ratio. Hydral subtly enhances the wooden floor and gives added value to the wooden structure. It is available in matt and silky gloss.
Lumina: This is a finishing product for all types of
wooden flooring and other elements in raw wood. This is a perfect finish that gives the wood a unique silky effect; it combines different gloss degrees, depending on the angle of incidence. With unprecedented scratch and chemical resistance, this product is one of the best varnishes in intensively used wooden flooring.
No Visible: It is a 2-component based product for finishing all types of wooden flooring and elements in raw wood. Due to its invisible nature, it is most preferred to be applied on clear wood species. The finish is ecological and does not emit any unpleasant odours. It ensures natural protection and has no gloss. With its unparalleled resistance to streaks and chemical reactions, this product matches the level of the best finishing varnishes for intensively used wooden flooring.
Protect: Protect is a water-based, two-component wooden floor varnish. It is based on a high quality copolymer and polyurethane concentrate.
Bona: Bona has a waterborne solution for all conditions and requirements. These are just but an array of what to expect from bona:
Bona natural: This is a finish product which preserves the natural character of wooden floors. It is user-friendly and only requires two coats so it is really is a one-day solution. The range for commercial use satisfies all needs. These parquet varnishes have medium to high durability so that they can withstand a lot of footsteps on the floor. You can choose a glossy, natural, or oiled look.
Bona TrafficThis is an excellent choice if you are looking for high durability in places such as a museum or airport.
Bona MegaThis one uses the oxygen in the air to harden the varnish to give it the benefits of a 2-component finishing varnish.
Bona FlowThis is the professional reference for the protection of wooden floors that are subject to heavy use. It is also extensively applied on floors which are repeatedly exposed to chemicals.With over 30 years experience in the wood finishing trade, we've got a wealth of information to help you choose the right finish. If you are unsure on which wood finish to choose, please read through these FAQ's. If you don't see the answer to your question please contact us (please let us know the relevant website page if applicable). If it is a popular question we can include an answer in this section.
What is the best way to match different coloured woods?By using a product from the same range on each type of wood, that needs to be matched, you can obtain a closer colour match. Where possible, it is best to use a clear coating on the darkest wood and a coloured coating on the lightest wood. Oil is a good option because it penetrates well into the wood, colouring it and protecting it at the same time. With oil, you can also apply a second coloured coat if the match is not close enough after the first attempt. Hard wax oil is a superior oil that is also available in colours. For example, to match new pine to old pine use 1 part whiskey hard wax oil to 1 part clear hard wax oil on the new wood and just clear on the old wood.
Which product offers the clearest finish?
If you are looking for a clear finish and do not need extra durability, we can recommend 3 types of Wax polish depending on the project you are working on; Supreme Wax Polish, Fiddes Beeswax Polish or Briwax
What if a wax isn't durable enough and I want a clear finish?
Extra tough clear varnish or hard wax oil offer a clear alternative to the wax products. The difference is that they will slightly darken the colour of the wood. Applying a little water to the wood will give you an indication of the final finish. We have had samples of varnishes that claim to keep the wood "Looking exactly as it is before applying the varnish" but they don't actually work. If you know of a product that does keep the wood looking the same but protected, then we would love to hear from you.
N.B. There is a product called Bona Naturale that is as clear as you can get, but it is well over £100 for a 5L tub which will cover about 3 coats on an area that is 15 square metres. We can obtain this product if it interests you. Roughly speaking ,it will make your wood look somewhere between how it is before anything has been applied to it, and how it looks once it has been wetted with water.
What is the difference between wax polish, oil and varnish?
Waxes: A wax looks really good but it is not very durable. It is ideally suited to furniture, such as wardrobes or wooden areas such as skirting boards and banisters, which do not require as much protection. Some customers do use wax on floors but do bear in mind that it needs more maintenance.
Oils: Offering more durability than a wax polish, Oils are easy to work with, very easy to repair; sand down scratches then reapply. But they take long to dry.
Varnishes: Forming a seal on the surface of the wood, varnishes are the strongest of all wood finishes. There are two categories of varnish available, solvent-based /lacquers and water-based. Water-based varnishes are more commonly used and are every bit as good as solvent-based varnishes these days. A 2 pack varnish is the strongest form of varnish and is ideal for high traffic areas, where durability is of the utmost importance such as bar tops. For most projects, such as a shop floor, our extra tough clear varnish is more than adequate and we consistently receive excellent feedback for this product.
How can we tell if the wood has been waxed, oiled or varnished?
If a wooden surface looks like it already has been finished with a product, it is always a good idea to find out what that finish is, as it may affect which product you should apply to the wood. For example, you could not really apply oil over a varnished floor, but an existing floor that has been oiled can be re-coated with an oil. Here are a few pointers to find out what your wood has been finished with: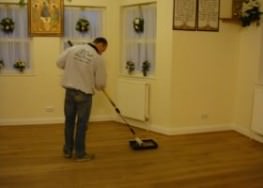 Waxed surfaces: If it has wax on it you can scrape it lightly with your finger nail once it has been cleaned. You may get a little wax under your nail. Also you can try buffing it with a cloth. Most surfaces will become shinier once buffed, but a waxed surface will substantially increase in shine.
Oiled surfaces: Generally speaking oiled surfaces are not that glossy. If you stand something on the surface of an oiled surface, it will not have much of a reflection; instead you are likely to see a fuzzy image reflected. You can also try putting a little white spirit on a small unnoticeable area, if it dissolves, the surface coating is likely to be an oil.
Please note that this may leave a white spot. White spirit will also dissolve most wax polishes so check the above advice (waxed surfaces) before trying this.
Varnished Surfaces: A varnished surface will be hard to the touch (it will make a clicking sound when you knock your nails on it) and will have a reflective surface. Even a matt varnish will reflect the light more than an oiled surface. If something is stood on the surface with a light source in view behind it, then the reflection is clearly visible. A satin or gloss varnish will have a very clear reflection of anything that is held up to the surface.
What is the advantage of oil?
The main advantage of oils is that, they are the easiest of all wood finishes to repair. A patch repair, for example, where a drink's stain has occurred, can easily be removed by simply sanding just the affected area and applying more oil.
What is the advantage of a wax?
A wax looks really nice, with more of a sheen than a gloss. It can be re-waxed as many times as you like and buffed until the required sheen level is obtained, or indeed not buffed if a low sheen is preferred.
What is the advantage of a varnish?
It is hard wearing and easily wiped down with damp cloths.
Is there a difference between a lacquer and a varnish?
No, the trade tend to refer to them as "lacquers" and the public tend to refer to them as "varnishes".
Why do you have both a lacquer and varnishes section on your site?
The public often feel they don't need a lacquer, and sometimes the trade feel they don't need a varnish, so this way we cater for both markets. In our lacquers section we have mainly included solvent based lacquers which are mainly used by the trade, and in our varnishes section we have water based products which are recommended for use in the home.
What is the difference between a dye and a stain?
Essentially there is no difference between a stain and a dye; they are both coloured liquids that don't offer a sheen or protection. They simply colour the wood. Our dyes are very concentrated and are available in the primary colours. Sometimes a product may have the word stain in its title, even though it is a protective coating also. However we believe that a stain should simply stain the wood and not do anything else. This is because better results will be achieved if clear coats are applied on top of the stain.
Why do you not have a tinted varnish in your range?
Many of the large DIY stores sell a varnish and stain combined because it cuts out the process of staining the wood separately. We are very negative about these types of finishes because, the colour tends to be suspended in the varnish on the surface of the wood, rather than being in the grain of the wood. This means that, the grain becomes obscured and the beauty of the wood is taken away. A better look, with greater grain enhancement is achieved, if a stain is applied first then clear coats of varnish applied on top.
How would you describe a satin sheen?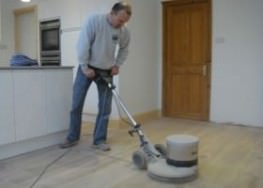 Another way to describe satin is eggshell. In other words, the sheen level is about the same as the surface of an egg when one coating has been applied. Two coatings will be a bit shinier.
How would you describe a matt sheen?
No shine or very little shine. However 3 coatings of a matt varnish will produce a sheen that is almost the equivalent of a satin.
How would you describe a gloss sheen?
Very shiny, if you hold an object against a piece of wood that has had 2-3 coatings of a gloss varnish applied, there will be a clear reflection of that product in the wood.
What is the benefit of a water-based stain?
They are well priced and very easy to apply. They have very little smell and a large range of colours are available.
What is the benefit of a solvent-based stain?
They are quick drying (about 5 minutes) and the grain of the wood is not raised.
Is grain raising (with water based products) something to be concerned about?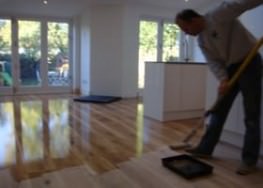 In short no, but this is a question of personal taste. The grain doesn't feel rough to the touch; it's more of a textured feel. In other words, the pattern of the wood can be felt through the wood finish. Some customers really like to be able to feel the wood while others don't. If several coats of varnish are being applied, then grain raising is not really an issue because, the varnish tends to seal over the grain that has been raised, thus creating a smooth surface.
What is the best way to apply finishes to a floor?
We've got a wide range of floor applicators that will save you time, money and all the hustle that comes with applying finishes, but if you need to do it yourself please look it up in our official website up at
3 oak.
What is the best way to clean and maintain my floor?
A concentrated cleaner can be mixed with water then applied by slightly dampening a cloth or mop. It is important to let the cleaner and not the water do the work.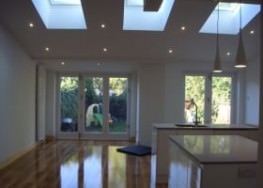 Using too much water on a varnish, wax or oil, will take a little of your finish off each time it is used. This in turn means your floor will have a shorter life. Visit our wood cleaners page to see our range of easy to use products.
Disclaimer: Whilst every attempt has been made to give information that is as accurate as possible, it is not fair to say that any advice can apply to every wood finishing situation. All woods have a different make up and influence top coats in their own way. For example a species of wood that is new will colour differently to the same species that has been cut for 2 years and one that has been cut for 2 years will colour differently to one that has been cut for 10 years so wood finishing advice is always a guideline only.