Fitting Method
Wood can be manufactured with a variety of different installation systems:
Tongue-and-groove
This one has one side of the plank with a tongue (a protruding wood along an edge's centre) while the other has a groove. The tongue and groove fit snugly together, thus joining or aligning the planks, and are not visible once joined. Tongue-and-groove flooring can be installed by glue-down (both engineered and solid), floating (engineered only), or nail-down (not recommended for some thinner engineered hardwood flooring).
"Click" systems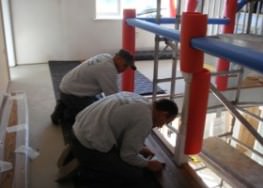 There are a number of patented "click" systems that exist at the moment. These click systems are either "unilin" or "fiboloc".  A "click" floor is similar to tongue-and-groove, but instead of fitting directly into the groove, the board must be angled or "tapped" in to make the curved or barbed tongue fit into a modified groove. No adhesives are used when installing a "click" floor, making board replacement easier. This system not only exists for engineered wood floors, but also solid bamboo and a small number of other solid floors. This system is best designed to be used for floating installations. It is beneficial for the Do-It-Yourself market.
Floor connection system
There is a wide range of connection systems. This is because; most of them are mill-specific manufacturing techniques. The general principle used in their making, is to have grooves on all four sides of the plank with a separate, unconnected, piece that is inserted into the grooves of two adjacent planks to join them. The piece used for the connection can be made from wood, rubber, or plastic. This installation system allows for different materials i.e. wood and metal, to be installed together, if they have the same connection system.