Sub Floor Preparation
You must make sure that the subfloor is flat, clean, dry, and structurally sound, free of squeaks and protruding fasteners before laying down the new wood floor. For any sort of Installation the sub floor should be flat to within 3mm in 3m or 2mm in 2m. If the sub floor has peaks or valleys that exceed the above tolerance, it must be rectified. This can be done either by using a levelling compound, plywood or any flexible adhesive your 3 Oak Surveyors will instruct. Also, any movements in the subfloor whether it's a loose board or squeaking should be repaired and replaced before the Installation begins.
Type of your subfloor
Concrete subfloor
For installation of glue down hardwood products, the concrete itself should be allowed to cure within a minimum of 60 days. Allowing longer periods is highly suggested. Applying of damp proof membrane (DPM) prior to the installation of the new hardwood flooring, is always recommendable.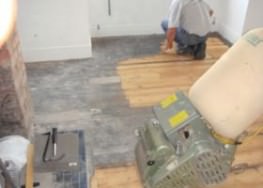 Ordinary concrete sealers should not be used when considering glue down type floors, as they will interfere with the adhesive transfer. However, in recent years, several hardwood floor adhesive manufacturers have introduced sealers used for this purpose. You have to proceed with extra caution if you are installing solid hardwood flooring over concrete even when using DPM. Checking humidity levels of the newly laid concrete sub floors is absolutely necessary. Sometimes laying plywood over concrete is recommendable, this is either to increase the level of the floor, to level the sub-floor, or just for extra moisture protection. Installing a new engineered flooring as a floated floor on your existing concrete sub-floor, just over a moisture and damp proof underlay, is an option that you might also like to consider.
Wood based sub-floor
If you have an existing floor board, plywood sub-floor, or any other type of wood based sub-floor, you must keep in mind that some preparation work might be necessary if your sub-floor is not in perfect condition. Securing any loose floor boards or replacing some of them in some cases is necessary, in order to provide you with quality installation of your new hardwood flooring.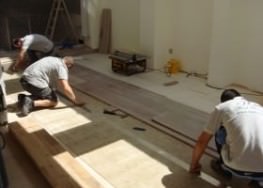 The orientation of the new hardwood floor boards should be across the orientation of the ones on your subfloor. This will hold them better and will ensure stable and secure fitting. If you want your new floor to be laid in the same direction as your existing floor boards, installation of a layer of plywood is necessary. The same thing is required if you chose to go with parquet or flooring panels which need to be fully bounded to the sub-floor.
As an alternative you can have the installation of your wood flooring done as a floated floor. Choosing this option also mean that, you have to do some preparation work on your floor boards prior to the fitting. In addition it is good to know that, it is not recommended for your new hardwood flooring to be installed over the exposed timber joists!
Vinyl sub-floor
When you have this kind of flooring, installing hardwood flooring as a floated floor over vinyl or vinyl composition tiles (if the type of the chosen flooring allows it), is your only option. Of course your vinyl sub-floor needs to be levelled and in decent condition before starting the process.
Tiles sub-floor
Installing real wood flooring over existing tiles is not a problem, but the tiles need to be in good condition so that, to prevent any squeaking or moving of your newly installed floor boards afterwards.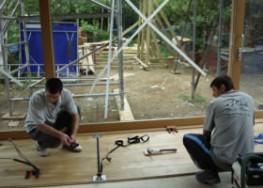 Otherwise same techniques as within the concrete sub floors are available.
Generally you have to bear in mind quite a lot of things before you lay down your new hardwood flooring. Otherwise our team of professionals is always ready to give you proper advice on how to do it and also complete your flooring job by making no compromise on quality. By doing so we satisfy your expectations to the last single detail. Give us a call or send us a message from our contact us section and leave the professional job to the professionals.