Wood Floor Finish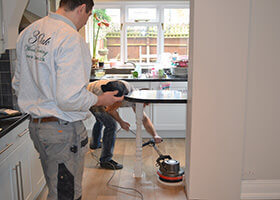 3 Oak Wood Flooring uses only high-quality wood floor finishes that protect and beautify wood naturally. All the finishes we use are based on natural vegetable oils and waxes that penetrate deep into the wood, bonding with the surface, making the wood highly durable and preventing cracking, flaking, peeling or blistering. All floor treatments we use are resistant against wine, beer, cola, coffee, tea, fruit juice, milk and water in accordance with DIN 68861-1A (the German industrial norm).
Our company cares about your well-being so we use finishes that are environmentally friendly and meet all the demands of healthy living.
All the products we use for finishing are safe for humans, animals and plants and suitable for children as per EN 71.3 (the European norm) and fast to perspiration and saliva in accordance with. DIN 53160 (the German industrial norm).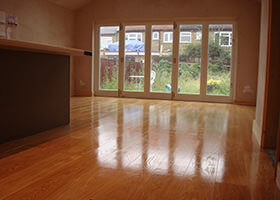 Finishes come in two forms: oil and varnish (lacquer). The big question in the industry is: what makes a better finish? Ultimately, this comes down to personal taste and what is expected of the floor. For example, you might choose oil because oiled floors are easily repaired and give the floor a natural look. Or you may prefer lacquer because of its durability.
We advise our customers to choose oiled finishes for their wood floors, because when it comes to lacquered finish on a wooden floor the biggest disadvantage is that it sits on the floor. When damaged it does not protect the floor and can't be repaired without a complete floor sanding procedure and application of new finish which has to be done by a specialist. That can be very expensive.
Oiled wood floor finishes are easily maintained and can be repaired locally, unlike lacquered floors. Therefore, oil is a perfect DIY finish, which can save you a fortune as it can be done without needing advanced skills.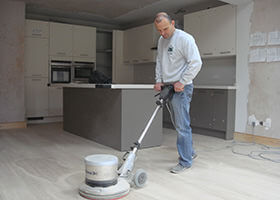 Most of our oak floors come prefinished with two-coat system as a standard and can be finished on site depending on client requirements. When it comes to kitchens we recommend an extra coat of oil because it seals all the gaps from liquid ingress.
Our finishing products are mostly solvent-free and are completely odourless when dry. If they do contain solvents, they are de-aromatised and comply with the safety demands of European Pharmacopoeia.